Share your knowledge and insight through one on one live video sessions with your followers, students and fans!
Supplement your income in your spare time…Enter MeetHook, a revolutionary web and mobile app where you are in control of your future.
MeetHook provides a revenue stream controlled by you, the MeetHook Host, which allows you to earn revenue during otherwise wasted downtime and gives you access to an unlimited number of new connections.

As a MeetHook Host you set your rate and schedule for whenever is convenient for you, and get paid per minute to share your knowledge and expertise via 1 on 1 video calls with people who share your interests.

Become a Host to seize the power and freedom to earn income whenever and where ever is convenient for you!

We encourage a philanthropic community! As a MeetHook Host you also have the option to donate a portion of your session earnings to charitable organizations that MeetHook has partnered with. To learn more about the charity feature please click here.
Watch the videos below to see how easy it is to earn money on MeetHook!
SET UP YOUR PROFILE
SET UP YOUR CALENDAR & AVAILABILITY
REVIEW BOOKINGS & NOTIFICATIONS
+ Are there any costs associated with becoming a Host?
No, it is 100% free to create a Host profile!
---
+ Who can be a Host on MeetHook?
Anyone with skills in the following categories who wants to earn extra money:
Music
Business
Entertainment
Sports
---
+ What are the requirements to Become a Host?
Host must click "Become a Host" and complete the following sections of their profile (100% complete) in order to be visible on the app, create availability and earn money by hosting Sessions:
Verified email address (MeetHook sends an email upon signing up as a User which includes a link to verify the email address). Any Hosts who did not receive/cannot locate the email can contact support@meethook.com for verification.
Profile picture – A good quality photo of a Host doing what they do best is always a good idea (i.e. on stage playing the drums, in their uniform on the field/court, etc.)
Offering – Information about what Users can expect from a Session
Skill(s) – Select all that apply from the list of available Skills within the designated Category chosen. Users can discover Hosts by their Skill.
Rate (USD per hour) – Hosts choose their rates based on what they believe their time is worth. Hosts can change their rate at any time.
TIP: If the Host profile percentage completion number is not at 100% (see the completion status near the top of the profile screen) and it is not clear what is left to complete, go to My Calendar and click "Create availability". If the Host profile is missing information, a pop up notification will open advising what is left to complete.
Please note: the Payout Details section is not required to have a visible Host profile on MeetHook or Host Session(s), however this section is clearly required to get paid for hosted Session(s). Hosts must complete the Payout Details section and designate an account where MeetHook will submit payment(s) for their Session Earnings. For more information please see the section "How do Hosts get paid?"
---
+ How do Hosts earn money?
By hosting Sessions that are booked by Users. Hosts set their availability either in their Calendar or use the MeetHook Now!! feature to potentially get a session booked instantly. The revenue our Hosts generate per Session is based on multiple factors including Session rate and duration.
---
+ What is the revenue split between MeetHook and their Hosts?
All of our Hosts receive their earnings minus a 15% MeetHook fee and a 3% merchant fee (assessed by the payment processor).
---
+ How do Hosts create their availability to get booked by Users?
Hosts have 2 options for creating their availability:
My Calendar – Hosts create open time slots for future MeetHook Sessions when they know they will be available.
MeetHook Now!! – Hosts who are immediately available for Sessions can use MeetHook Now!! feature by setting the duration of time they are available for at that moment.
When a Host sets either of these availabilities all Users who have 'Favorited' their profile will be notified via Push Notification!
To maximize booking potential MeetHook recommends Hosts should promote their availability on their social media sites!
---
+ How do Hosts delete their open availabilities?
Either of the following ways:
My Calendar – click on the open slot to be deleted then click the 'x'
My Calendar (List View) – for multiple/recurring slots click the 'x' for each slot that needs to be deleted
For Android app – click on the trash can icon to delete each open slot
For iOS app – swipe left on each open slot to reveal the trash can icon and delete
---
+ Where do Hosts see details of upcoming Sessions?
Either of the following areas:
My Calendar (Calendar view or List view). Click on the booked Session to view the details and/or start the Session.
Dashboard/Sessions tab (only the Sessions for the current day will be listed here). Click on the booked Session to view the details and/or start the Session.
---
+ How are Host earnings calculated?
The Session Earnings are calculated by multiplying the actual minutes the Host is present in the Session by the per minute rate. The 15% MeetHook fee is then deducted followed by any percent to Charity chosen by the Host as well as a 3% Merchant fee. The Net Earnings then flow to the Host's MeetHook Wallet (viewable in the Earnings column), which are then transferred to the Host's designated Payout account.
---
+ How do Hosts view their revenue earned from Sessions?
Hosts can view their earnings from either of the following sections:
History/Session Details – shows the amount earned per Session
MeetHook Wallet/Earnings - shows the amount earned per Session as well as the amount pending deposit for the current pay period and total earnings to date)
---
+ How do Hosts get paid?
Host earnings are automatically processed on the 1st and 15th of each month. Payments are sent to the account the Host has designated as 'default' in the Payout Details section of their profile, which is either:
U.S. Bank account (Personal or Business). MeetHook submits payment via ACH deposit and depending on your bank it could take up to 3 business days to process.
---
+ Does MeetHook withhold taxes?
MeetHook Hosts are not considered employees of MeetHook and taxes are not automatically withheld from earnings. MeetHook Hosts are an independent contractors. A 1099 tax form will be generated to any Hosts who generate $600 or more during a tax year.
It is suggested that all Hosts consult with an accounting professional.
---
+ How do Hosts view their public profile?
Hosts can access a link to their public Host profile by logging into MeetHook on the web and clicking the "Share Profile" icon. This link can be copied and pasted to allow them to view and share it where ever they wish.
---
+ Can a Host offer a Session with multiple Skills?
At this time the MeetHook Platform only allows Hosts to select one Skill per session that they are available for. We are working hard to make it possible for Hosts to offer multiple Skills per Session in a future update. In the interim, we recommend if Hosts have multiple Skills selected and they want to be available for all of their Skills they can write this in the 'Offering' section of their profile.
---
+ How do Hosts maximize their potential for bookings and earn more money?
The Hosts who have had the most success have used the following methods:
Creating availability often and staying active on the platform maximizes the potential to be seen and get booked by Users. MeetHook Hosts that have availability are listed on our 'Featured' section as well.
Promoting their availability by posting the Host "Share Profile" link on their websites and social media sites to alert their followers they can be reached via MeetHook. MeetHook also promotes our Hosts on our social media as well.
Offering smaller increments of availability (10 or 20 minute Sessions) which allows first time Users to get an idea of what a Session with the Host is like. Depending on the Host's rate, a shorter Session may attract more Users that perhaps cannot afford an entire 30 or 60 minute Session but would be willing to purchase the shorter Session for a fraction of the hourly rate.
Utilizing MeetHook's Charity Feature by donating a portion of their Session earnings to a great cause and promoting it in the 'Offering' section of their profile.
Entering information in the 'Offering' section of the Host profile to let Users know what they can expect and/or are available for.
Selecting 'Discussion' for the 'Session Type' when creating availability as this is the most general of the options.
---
+ Can Hosts have MeetHook sessions for Charity?
Yes, we encourage a philanthropic community and have streamlined the process for our hosts to give back! MeetHook has partnered with several charities and the list keeps growing.
The Charity feature can be found in the navigation menu. Simply toggle the 'Donate' button to the 'on' position, select one of our partnered charities and enter the percentage of session earnings to be donated (anywhere from 1% to 100%). Once Sessions are completed the MeetHook app handles the payment to the designated charity and details can be viewed in the Host's History section of their account.
Hosts can change which Charity to donate to or stop donating at any time.
Once the Charity feature is turned 'On' all the following sessions hosted will deduct the specified percentage for the selected charity. To stop donating session earnings the 'donate' button must be toggled off prior to the start of a Session.
*Please note: The MeetHook Web app and Android app include the Charity feature in Host profiles, however the iOS app currently does not support it. For Hosts who have the MeetHook iOS app and wish to donate to a charity: they can log into their MeetHook account on the Web to use the Charity feature. For more information please visit our Charity page.
---
+ What are some tips for Hosting a quality Session?
Give the User your full and undivided attention during your Sessions as they have purchased this time with you.
Make sure the lighting is sufficient for the User to see you clearly.
Keep unnecessary background noise to a minimum to ensure the User can hear you.
Use appropriate mounting systems, tripods or similar options for the device you're using so the video will be clear and still (as the video could become pixelated and/or choppy if moving around too much).
Make sure you are in the appropriate location and have all the supplies necessary for the type of Session you are Hosting (i.e. if you're a Drummer Hosting a Drum Lesson, you should be near your drum set and all set up once the Session begins).
---
+ How do Hosts freeze/close their account?
Hosts who wish to hide their profile on MeetHook can 'Freeze' their profile at any time by going to Settings/Others 'Freeze Profile'
Hosts who wish to permanently delete their account can do so at any time and should contact MeetHook for closure.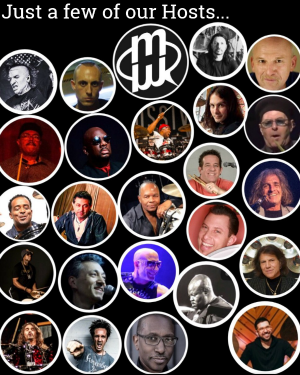 Check out what people are saying about the MeetHook platform!
"The cool thing with MeetHook is the spontaneity, that is its strongest attribute!"

— Mark Guiliana (David Bowie, Matisyahu, John Scofield, Matt Cameron, etc.)
"MeetHook is setup to go beyond lessons, it will make all your dreams come true, trust me!"

— Chris Coleman (Beck, Prince, Stevie Wonder, Sheila E, etc.)
"MeetHook connects people of all levels in their craft. It is leveling the playing field for sought-after information and the exchange of that knowledge is priceless. There is real power in the experience with MeetHook. It's a one-on-one conversation with the source."

— Stephen Perkins (Jane's Addiction, Porno for Pyros, Mick Jagger, Debbie Harry, Rage Against the Machine, etc.)
"MeetHook is such an amazing idea! Back when I was younger and even today the fact that I can use MeetHook to call one of my favorite drummers up and get them on the line, I would have paid anything, sold anything or done anything because that would have been a dream!"

— Zoro (Lenny Kravitz, Bobby Brown, etc.)
"All in one place, I can connect with people, they can connect with me, I can share my expertise and it's a win-win situation in the palm of your hand. The MeetHook App is totally streamlined, fun, easy to use!"

— Rich Redmond (Jason Aldean)
"As a drummer you are always learning, you can never know all there is to know about the drums, so I'd like to take some drum lessons on MeetHook."

— Richard Christy (Iced Earth, Death, Charred Walls of the Damned)